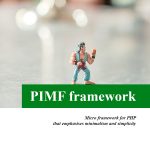 This is a hands-on book. You won't be able to complete it by reading it in a metro on a way to work. You'll have to read this book while in front of a computer getting your hands dirty. You will learn developing console and web applications as well as micro services. This book is interesting for intermediate developers as well as beginners.
Learning PIMF
One of the best ways to learn PIMF is to read through the entire of its documentation. This guide details all aspects of the framework and how to apply them to your application. http://docs.pimf-framework.de
Read the PIMF Starter book almost anywhere. Available as a PDF, EPUB and MOBI. You can now read it on all devices, as well as offline: http://book.pimf-framework.de
Eventually, you might get stuck and in need of help. Or you might want to write a review or comment on the book's content. Please post your thoughts on this blog post. If you prefer one-on-one discussion, feel free to send me an email to gjero@krsteski.de, and I'll give my best to help you out.